Section
Panel
| | |
| --- | --- |
| bgColor | #FDFEFE |
| titleBGColor | #CACFD2 |
| title | Mitel |
Column
About Mitel
Mitel Networks is a telecommunications company providing unified communications solutions for business. The company previously produced TDM PBX systems and applications but after a change in ownership in 2001 now focuses almost entirely on Voice-over-IP (VoIP) products.
Mitel is headquartered in Ottawa, Ontario, the capital city of Canada, with offices, partners and resellers worldwide.
Column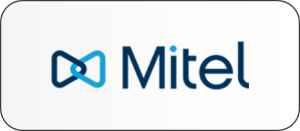 See below for a list with supported features when using the Gigaset N300, N510 or N720 IP PRO as a DECT cordless system behind a Mitel PBX.
All tests were performed by the Gigaset pro support team.
Feature                                       

       N510 IP PRO     

     N720 Multi cell    

N720 Multi Cell

Software release:  

48

34

109

PBX version

MXe 3300 Version 10.2.0.26

MXe 3300 Version 10.0.3.30

A470 - R4.1 - HF5

Basic Call

Yes

Yes

Yes

Calling line (CLIP)

Yes

Yes

Yes

Connected line (COLP)

Yes

Yes

Yes

Anonymous call

-

-




Do Not Disturb

Network feature

Network feature

Platform feature

Message waiting

Yes

Yes

Yes

Call list/history

Yes

Yes

Yes

Voice mail deposit/retrieval

Yes

Yes

Yes

Call waiting

-

-

Yes

Call Hold / Toggle

Yes

Yes

Yes (MoH not working randomly)

Call forward (CFU)

Yes

Yes

Yes

Call forward (CFNR)

Yes

Yes

Yes

Call forward (CFB)

Yes

Yes

Yes

Call Transfer attended

Yes

Yes

Not working - R Key starts MoH but freezes handset

Call Transfer unattended

Yes

Yes

Not working - R Key starts MoH but freezes handset

DTMF (RFC2833)

Yes

Yes

Yes

Conference 3pty

Yes

No

Not tested

BLF Busy / Idle indication

No

No

Not tested

Call pick-up direct  ( **3 )

Yes

Yes

Not tested

Call pick-up group ( * 3 )

Yes

Yes
Additional information:

The following feature codes have been tested. These can be changed in the Mitel PBX system.

Function

Feature code

Callback -Setup

5

Call Forwarding Busy (external, ext/int, internal)

**22, *22, *#22

Call Forwarding - Follow me

*21

Call Forwarding no Answer (external, ext/int, internal)

**23, *23 *#23

Call Pickup Dailed (pickup in groep)

*3

Call Pickup Directed

**3

Cancel forwarding Busy

#22

Cancel forwarding Follow me

#21

Cancel all forwarding

#29

Do not Disturb

*25

Do not Disturb Cancel

#25

3 Party conference (start/end)

*4, #4