Skip to end of metadata
Go to start of metadata
Starface
About Starface
STARFACE is an award-winning VoIP based telephony system that is "Made in Germany". It integrates completely into the IT and communications infrastructure of your business, is based on open standards and can be used in Windows, Linux and Mac OS X environments.
With our platforms, we have the perfect product for every size of company. You can choose between five different hardware appliances or our cloud-based telephony system, or you can even host a virtual edition of the system yourself.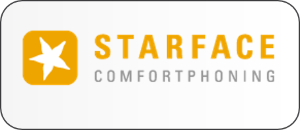 See below for a list with supported features when using the Gigaset PRO IP Devices connected behind a Starface PBX.
https://knowledge.starface.de/display/wiki67/Konfiguration+einer+Gigaset+N870
| Feature                                        | N870 | N670 |        N510 IP PRO      |      N720 Multi cell     | Maxwell B/2/3/4 |
| --- | --- | --- | --- | --- | --- |
| Software release:   | 2.23.0 | 2.23.0 | 72 | 40 | 1.14.6 |
| Basic Call | Yes | Yes | Yes | Yes | Yes |
| Calling line (CLIP) | Yes | Yes | Yes | Yes | Yes |
| Connected line (COLP) | Yes | Yes | Yes | Yes | Yes |
| Anonymous call | Starface menu | Starface menu | Yes | Yes | PBX feature |
| Do Not Disturb | Starface menu | Starface menu | Yes | Yes | Yes |
| Message waiting | Yes | Yes | Yes | Yes | Yes |
| Call list/history | Starface menu | Starface menu | Yes | Yes | Yes |
| Voice mail deposit/retrieval | Yes | Yes | Yes | Yes | Yes |
| Call waiting | Yes | Yes | Yes | Yes | Yes |
| Call Hold / Toggle | Yes | Yes | Yes | Yes | Yes |
| Music on Hold | Yes | Yes | Yes | Yes | Yes |
| Call forward (CFU) | Starface menu | Starface menu | Yes | Yes | Yes |
| Call forward (CFNR) | Starface menu | Starface menu | Yes | Yes | Yes |
| Call forward (CFB) | Starface menu | Starface menu | Yes | Yes | Yes |
| Call Transfer attended | Yes | Yes | Yes | Yes | Yes |
| Call Transfer unattended | Yes | Yes | Yes | Yes | Yes |
| Blind transfer | Yes | Yes | N.A. | N.A. | Yes |
| DTMF (RFC2833) | Yes | Yes | Yes | Yes | Yes |
| Conference 3pty | Yes | Yes | Yes | Yes | Yes |
| BLF Busy / Idle indication | N.A. | N.A. | N.A. | N.A. | Yes |
| Call pick-up direct  ( * 8 extension) | Yes | Yes | Yes | Yes | Yes |
| Call pick-up group ( * 8 ) | Yes | Yes | Yes | Yes | Yes |
| Call pick-up BLF | N.A. | N.A. | N.A. | N.A. | Yes |
| Call completed elsewhere | Yes | Yes | Yes | Yes | |
| Auto provisioning | Yes | Yes | Yes | Yes | Planned |
| Feature sync (xHTML) | Yes | Yes | Yes | Yes | No |
Explanation instalation of an Gigaset N510 or Gigaset N720
Explanation instalation of an Gigaset N870 / N670