Skip to end of metadata
Go to start of metadata
Remove icon
We have implemented the option to remove the function key icon on the display, this to be possible to show more characters.
This can be done via provisioning and via the web-interface.
Web-interface:
Go to: SETTINGS - Desk Phone - Keys and LEDs - Function Keys - Configuration

Auto-provisioning:
Parameter name
Min. value
Max. value
Value: allowed
PhoneUI.Keys.FunctionKeys.Icons
0
1
0 = Do not show Function key icons
1 = Show Function key icons (Default) 
Example: <param

name

="PhoneUI.Keys.FunctionKeys.Icons"

value

="0"/>
Show display name
Some platforms do not use easy to read names or numbers.
Example: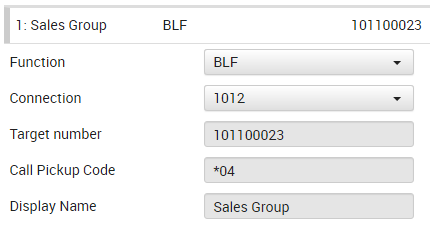 A BLF key with target number 101100023
When BLF key is pressed, the Target number "101100023" is shown on the display
The option: SETTINGS - Desk Phone - Keys and LEDs -show display name, when enabled replaces the Target number with the Display name that is configured.

In this example, the name Sales Group will be visible on the display.
If the platform updates the Display info via an SIP update message or re-invite, the displayed name or number will be replaced with the information from the platform.