Parameter
Description
DM Name

The name is used to identify the DECT manager within DECT manager lists. Enter a meaningful name for the DECT manager, e.g., referring to the location or organisational
unit.

Password

The password must be entered when registering the DECT manager at the Integrator. Enter a password for DECT manager registration. You should note this password to have it available, when you will have to enter the account data
later at the DECT manager.

RPN Group

Part of the RFPI for a DECT manager. PARI and RPN must be locally unique in order to achieve that the RPN group allocated for the base stations of a DECT manager is locally unique in the system too.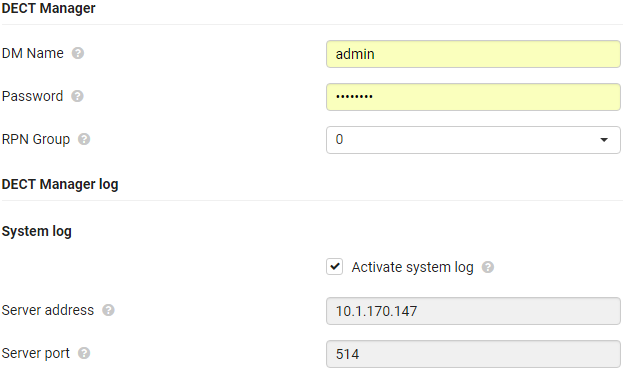 System log
The system report (SysLog) gathers information about selected processes performed by the DECT manager and base stations during operation and sends this to the configured SysLog server.
Activate system log
Mark/unmark the check box to activate/deactivate the logging function.
Server address
Enter the IP address or the (fully qualified) DNS name of your Syslog server. Value: max. 240 characters
Server port
Enter the port number, where the Syslog server expects to receive requests.

Range: 1-65535; Default: 514
How you need to configure the DECT manager so it can connect to the Integrator with the above setting can be found here: 5. Configure the DECT Manager + Base