To create new label for Gigaset DE410 DE700 DE900 Pro and  ZY700 ZY900 Pro
please click on one of the areas of the insert strip on the added pdf document.
Phone Inlay 14 keys is for function keys DE700 and DE900,

Inlay Extension Modul is for DE410,  ZY900 and ZY700 PRO products.
Phone Inlay 14 keys can be labeled alternately left or right justified.
To do this, place the cursor in the first upper half of a field and begin flush left with the first labeling.
Then move the cursor into the lower half of the field and press the "Del" – key on your PC.
Now you can label the lower half of the field right justified.
Enter the name of the function or the name of the party you have to / you assigned to the function key.
Repeat this procedure for each field and each function key.
Print this file.
Note: These phone Inlays must be printed 1 : 1 in original size.
(to be printed on Post-Script Printers, do not scale)
Cut the insert plate along the outer line.
Place the label under the protective film on the phone.
Together with a Gigaset T300/T500 PBX you can print the labels direct from the PBX menu.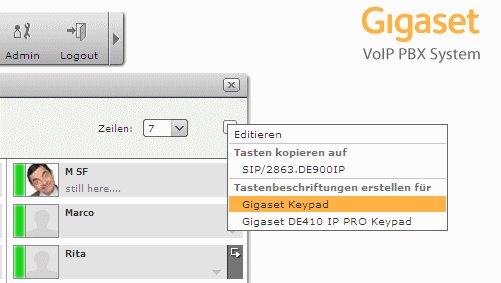 Here you can also download the template for the keypad label Gigaset BLF Key template.pdf