Skip to end of metadata
Go to start of metadata
Askozia PBX 5.0 or higher
Askozia
About Askozia
Askozia was originally started as university project focused on building a lightweight software phone system. The project was a great international success, that Benjamin and Sebastian decided in 2010 to start a company. Looking at our competition, we decided that we didn't want to lock our users into a license model where they have to pay for every single channel. We'd rather do something fundamentally different. This is why we do not charge per user and we do not limit our products arbitrary.
The core of all our products is AskoziaPBX, an easy to use IP phone system based on Asterisk. In addition to developing VoIP software, we design and build our Telephony Servers in-house in our headquarters in Hannover, Germany.
Askozia's team consists of experienced engineers that have been working with Voice over IP for more than a decade. We have a customer base of more than 100.000 users in small and medium sized companies all around the world. Askozia is privately held, and did not seek any venture capital. This way, we are not obliged to anybody, except to our customers.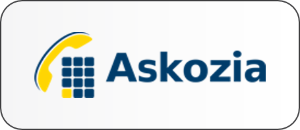 See below for a list with supported features when using the Gigaset PRO IP Devices.
Testresults provided by Askozia  Askozia Version 5.0
Supported Devices from Gigaset PRO
| Feature                                        |    DE310 / DE410 IP PRO  |    DE700 / DE900 IP PRO  | Maxwell basic / Maxwell 3 |        N510 IP PRO      |      N720 Multi cell     |
| --- | --- | --- | --- | --- | --- |
| Software release:   | 02.01.00 | 02.01.00 | 1.15.6 | 238 | 89 |
| Basic Call | OK | OK |   | OK | OK |
| Calling line (CLIP) | OK | OK |   | OK | OK |
| Connected line (COLP) | OK | OK |   | OK | OK |
| Anonymous call | OK | OK |   | OK | OK |
| Do Not Disturb | OK | OK |   | OK | OK |
| Message waiting | OK | OK |   | OK | OK |
| Call list/history (local) | OK | OK |   | OK | OK |
| Voice mail deposit/retrieval | OK | OK |   | OK | OK |
| Call waiting | OK | OK |   | OK | OK |
| Call Hold / Toggle | OK | OK |   | OK | OK |
| Music on Hold | OK | OK |   | OK | OK |
| Call forward (CFU) | OK | OK |   | OK | OK |
| Call forward (CFNR) | OK | OK |   | OK | OK |
| Call forward (CFB) | OK | OK |   | OK | OK |
| Call Transfer attended | OK | OK |   | OK | OK |
| Call Transfer unattended | OK | OK |   | OK | OK |
| Call Transfer blind | OK | OK |   | Not supported | Not supported |
| DTMF (RFC2833) | OK | OK |   | OK | OK |
| Conference 3pty | OK | OK |   | OK | OK |
| BLF Busy / Idle indication | OK (DE410) | OK |   | - | - |
| Call pick-up direct  ( * 8 extension) | OK (DE410) | OK |   | OK | OK |
| Call pick-up group ( * 8 ) | OK (DE410) | OK |   | OK | OK- |
| Call pick-up BLF | OK (DE410) | OK |   | - | - |
| Call completed elsewhere | OK | OK |   | OK | OK |
| UDP /TCP | OK | OK |   | OK | OK |
| Central Phonebook (LDAP) | OK | OK |   | OK | OK |
| Auto provisioning | OK | OK |   | OK | OK |