Skip to end of metadata
Go to start of metadata
Blu Networks
Over BLU Networks
BLU Networks is een zelfstandige, snelgroeiende en infrastructuur onafhankelijke full serviceprovider op het gebied van VoIP, Trunking, Traditionele Telefonie, Vast-Mobiel Integratie, datacommunicatie, Internet, IP-VPN en (regionale) colocatie. De onderneming maakt gebruik van zowel intern ontwikkelde als extern beschikbare state of the art technologieën.
Wij werken samen met een netwerk van gespecialiseerde partners door heel Nederland door middel van zowel een partnermodel als een reseller model. Voorop staat bij BLU Networks altijd: wij helpen! Waar nodig zijn wij beschikbaar om u als partner van BLU Networks bij te staan, dat kan zijn door middel van technische ondersteuning maar ook bij uw verkoop kansen.
De diensten van BLU Networks zijn als bouwstenen, welke u kunt gebruiken en samenvoegen om een op maat gesneden oplossing te bieden aan uw klant.
| Feature | Code |
| --- | --- |
| Hide Caller ID | *67 |
| Show Caller ID | *68 |
| Group Call Pickup | *82 |
Documentation and information:
Find here the contact page
See below for a list with supported features when using the Gigaset PRO IP Devices on the providers network.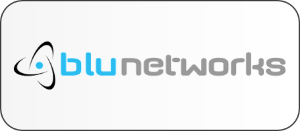 Supported features
Feature                                       
N870 PRO
N670 PRO
Maxwell 3
Maxwell 2
Maxwell basic
Maxwell 10
N720 IP PRO
N510 IP PRO
Software release:  
2.17.2
2.17.2
2.25.6
2.25.6
2.25.6
2.4.9
105
240
Basic Call

Yes

Yes

Yes
Yes
Yes

Yes

Yes
Yes
Calling line (CLIP)

Yes

Yes

Yes
Yes
Yes

Yes

Yes
Yes
Connected line (COLP)

-

1

-

1

-

1

-

1

-

1

-

1

-

1

-

1
Anonymous call
Yes
Yes
Yes

Yes

Yes

Yes

-

2

-

2
Do Not Disturb

Yes

Yes

Yes
Yes
Yes

Yes

-
-
Message waiting

Yes

Yes

Yes
Yes
Yes

Yes

Yes
Yes
Call list/history

Yes

Yes

Yes
Yes
Yes

Yes

Yes
Yes
Voice mail deposit/retrieval

Yes

Yes

Yes

Yes

Yes

-

1

-

1

-

1
Call waiting

Yes

Yes

Yes
Yes
Yes

Yes

Yes
Yes
Call Hold / Toggle

Yes

Yes

Yes
Yes
Yes

Yes

Yes
Yes
Call forward (CFU)

-

2

-

2

-

2

-

2

-

2

-

2


-

2

-2

Call forward (CFNR)

-

2

-

2

-

2

-

2

-

2

-

2


-

2

-

2
Call forward (CFB)

-

2

-

2

-

2

-

2

-

2

-

2


-

2

-

2
Call Transfer attended

Yes

Yes

Yes
Yes
Yes

Yes

Yes
Yes
Call Transfer early attended

Yes

Yes

Yes
Yes
Yes

Yes

Yes
Yes
Call Transfer unattended

Yes

Yes

Yes
Yes
Yes

Yes

-
-
Call completed elsewhere

-

1

-

1

-

1

-

1

-

1

-

1

-

1

-

1
DTMF (RFC2833/4733)

Yes

Yes

Yes
Yes
Yes

Yes

Yes
Yes
Conference 3pty
-4
-4
Yes
Yes
Yes

Yes

-
Yes
BLF Busy / Idle indication
-
-
Yes
Yes
Yes3

Yes

-
-
Call pick-up direct

Yes

Yes

Yes
Yes
Yes

Yes

Yes
Yes
Call pick-up group

Yes

Yes

Yes
Yes
Yes

Yes

Yes
Yes
Call pick-up BLF
-
-
Yes
Yes
Yes3

Yes

-
-
Auto provisioning

-

1

-

1

-

1

-

1

-

1

-

1

-

1

-

1
- 
Not supported by device
-1
Not supported by the platform
-2
Platform feature via FAC
3
Via key extension module

-

4
Via firmware update