Skip to end of metadata
Go to start of metadata
Introduction

You can define your own dialling plans in the Dialling plans area on the Web page: Settings - Telephony - Dialling Plans
You can specify the following Dialling Plans:
You can define a connection for specific phone numbers, which is always to be used to dial these numbers.
Define if the number is to be dialed with the area code.
If dialling plans overlap, the one with the greatest concordance will apply.
Example:
There is a dialling plan for the number "02" and the one for number "023". If you dial "0231.." the second plan will apply, if you dial "0208..." the first plan will apply.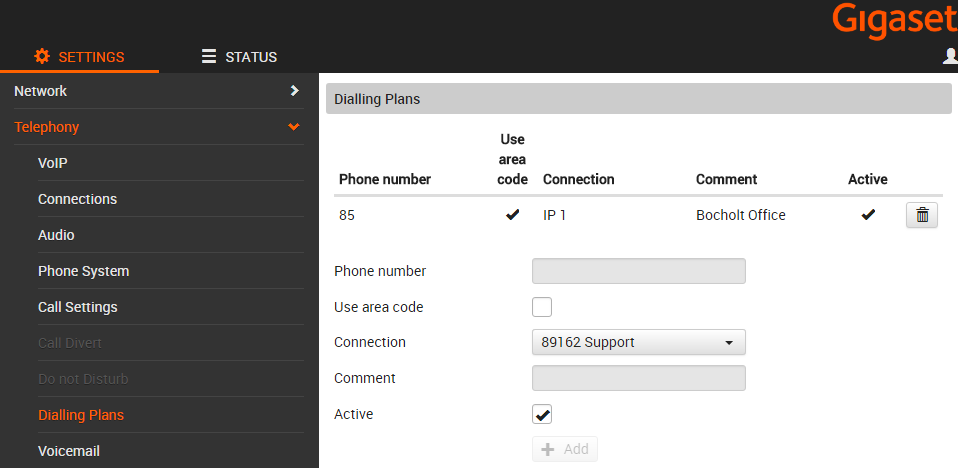 Example
Area Code


Country
Germany








International
Prefix
00









Area Code

49






Local
Prefix
0








Area Code
287191




Dialling Plans
Phone number
Use area code
Connection
Comment
Number
Outgoing INVITE
89

√

IP 1
Bocholt Office
89999
004928719189999 via IP 1
86



IP 1

Bocholt Local

86000
86000 via IP 1
87


IP 2
Test
87000
87000 via IP 2
891

√

IP 2
Test2
89199

004928719189199 via IP 2
Auto provisioning
Parameter name
Description
Telephony.DiallingPlans.List.0-19.Number


Telephony.DiallingPlans.List.0-19.UseAreaCode

0 = Disabled




1 = Enabled

Telephony.DiallingPlans.List.0-19.Connection


Telephony.DiallingPlans.List.0-19.Comment


Telephony.DiallingPlans.List.0-19.Active

0 = Disabled




1 = Enabled

Telephony.CallBarring.List.0-19.Number




Telephony.CallBarring.List.0-19.Comment




Telephony.CallBarring.List.0-19.Blocked

0 = Disabled




1 = Enabled

Example:

<param name="Telephony.DiallingPlans.List.0.Active" value="0"/>
<param name="Telephony.DiallingPlans.List.0.Comment" value=""/>
<param name="Telephony.DiallingPlans.List.0.Connection" value="0"/>
<param name="Telephony.DiallingPlans.List.0.Number" value=""/>
<param name="Telephony.DiallingPlans.List.0.UseAreaCode" value="0"/>