Skip to end of metadata
Go to start of metadata
Introduction
All phone settings can be reset to the Factory Settings. This deletes all individual settings, lists and directory entries. Also all Android settings are back to the default. This could mean that 3rd party Apps have to be re-installed.
Reset via web-interface
In the web-interface of the Maxwell 10 go to: Settings - System - Reboot and Reset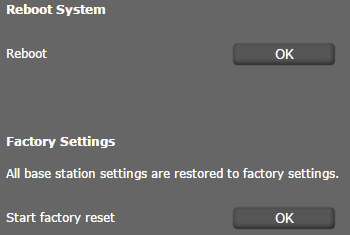 Reboot:
Click on OK next to Reboot to reboot the system.
Reset
Click on OK next to Start factory reset to reset the phone to factory condition.
Reset via Android Settings menu
On the Home page press the

icon and then the

Settings Icon and click on Backup & reset

Click on Factory data reset
Reset via reset button Back-side
During the Boot of the device press the display key, on the screen you will see the menu
Press reset button to move highlight;
Press and hold reset button for 5 seconds to select.
Reboot system now
apply update from ADB
wipe data/factory reset <--- You should only use this option.
wipe cache partition
Please Note
After the Factory Reset above, the device will then attempt to automatically download the latest official firmware from our servers by default.