Skip to end of metadata
Go to start of metadata
Timico
About Timico
Timico is a privately-owned, information and communications technology provider, supplying multi-site organisations with the network connectivity, cloud, unified communication, managed IT and mobile solutions they need to operate effectively in today's highly competitive market place.
Founded in 2004, our impressive growth has come about through both organic and acquisitive means. Group annualised turnover is currently circa £60m. We service the UK and international needs of over 15,000 clients from our head office in Newark, Nottinghamshire and five other offices nationwide.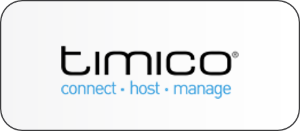 See below for a list with supported features when using the Gigaset PRO IP Devices on the providers network.
| Feature                                        |    DE310 / DE410 IP PRO  |    DE700 / DE900 IP PRO  |        N510 IP PRO      |      N720 Multi cell     |
| --- | --- | --- | --- | --- |
| Software release:   | 02.00.01 | 02.00.04 | 75 | 68 |
| Basic Call | Yes | Yes | Yes | Yes |
| Calling line (CLIP) | Yes | Yes | Yes | Yes |
| Connected line (COLP) | Yes | Yes | Yes | Yes |
| Anonymous call (*141) | Network Feature | Network Feature | Network Feature | Network Feature |
| Do Not Disturb | Yes | Yes | No | No |
| Message waiting | No | No | No | No |
| Call list/history | Yes | Yes | Yes | Yes |
| Voice mail deposit/retrieval | No | No | No | No |
| Call waiting | Yes | Yes | Yes | Yes |
| Call Hold / Toggle | Yes | Yes | Yes | Yes |
| Call forward (CFU) | Yes | Yes | Yes | Yes |
| Call forward (CFNR) | Yes | Yes | Yes | Yes |
| Call forward (CFB) | Yes | Yes | Yes | Yes |
| Call Transfer attended | Yes | Yes | Yes | Yes |
| Call Transfer unattended | Yes | Yes | Yes | - |
| DTMF (RFC2833) | Yes | Yes | Yes | Yes |
| Conference 3pty | Yes | Yes | Yes | No |
| BLF Busy / Idle indication | Yes | Yes | - | - |
| Call pick-up direct  ( * 87 extension) | Yes | Yes | Yes | Yes |
| Call pick-up group ( * 87 ) | Yes | Yes | Yes | Yes |
| Call pick-up BLF | Yes | Yes | - | - |
| Call completed elsewhere | No | No | No | No |