Skip to end of metadata
Go to start of metadata
Yeastar
About Yeastar
Yeastar specializes in the developing and manufacturing of IP-PBX and VoIP gateways, and is committed to the distribution of new generation technology products in the field of enterprise communications. In the mean time, Yeastar provides the cost-efficient solutions for ITSP to develop the enterprises ultimate purchase market.
Yeastar designs, deploys and delivers innovative IP solutions to worldwide applications and maintains the long-term stability of products to greatly benefit users. Yeastar is consistently recognized in VoIP industry for the innovative and high-performance professional networking products.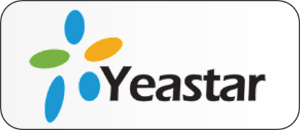 See below for a list with supported features when using the Gigaset N510, N720 IP PRO or Maxwell Basic, 2 and 3 behind a Yeastar PBX.
All tests were performed by the Gigaset pro support team, Maxwell Basic, 2 and 3 are certified by Yeastar also, including auto provisioning.
| Feature                                        | N670/N870 |        N510 IP PRO      |      N720 Multi cell     | Maxwell B/2/3 |
| --- | --- | --- | --- | --- |
| Software release:   | 2.29.0 | 245 | 111 | 2.24 |
| Yeastar | 30.12.0.9 | 30.7.0.35 | 30.7.0.35 | 30.7.0.35 |
| Basic Call | yes | yes | yes | yes |
| Calling line (CLIP) | yes | yes | yes | yes |
| Connected line (COLP) | yes | yes | yes | yes |
| Anonymous call | PBX feature | PBX feature | PBX feature | PBX feature |
| Do Not Disturb | yes | N.A. | N.A. | yes |
| Message waiting | yes | yes | yes | yes |
| Call list/history | yes (local) | yes (local) | yes(local) | yes |
| Voice mail deposit/retrieval | yes | yes | yes | yes |
| Call waiting | yes | yes | yes | yes |
| Call Hold / Toggle | yes | yes | yes | yes |
| Music on Hold | yes | yes | yes | yes |
| Call forward (CFU) | yes | yes | yes | yes |
| Call forward (CFNR) | yes | yes | yes | yes |
| Call forward (CFB) | yes | yes | yes | yes |
| Call Transfer attended | yes | yes | yes | yes |
| Call Transfer unattended | yes | yes | yes | yes |
| Call Transfer blind | yes | N.A. | N.A. | yes |
| DTMF (RFC2833) | yes | yes | yes | yes |
| Conference 3pty | yes | yes | no | yes |
| BLF Busy / Idle indication | N.A. | no | no | yes |
| Call pick-up direct  ( * 04 extension) | yes | yes | yes | yes |
| Call pick-up group ( * 4 ) | yes | yes | yes | yes |
| Call pick-up BLF | N.A. | N.A. | N.A. | yes |
| Call completed elsewhere | yes | yes | yes | yes |
| Auto provisioning | yes | no | no | yes |
| LDAP phonebook | yes | yes | yes | yes |
| Firmware update | yes | no | no | |
| Provisioning template example | | | | |