Skip to end of metadata
Go to start of metadata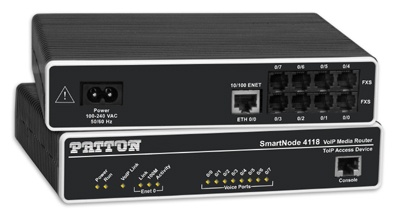 Patton SmartNode 41xx
This article will describe the configuration of the Patton 41xx FXO/VoIP Gateway behind the Gigaset T300/500 PBX system.
To guarantee a proper operation, please update the device first to the latest sw-version (see below for more details).
The automatic (one-touch) setup is NOT supported with the FXO-variant of the 41xx devices. Please follow the manual installation mentioned below.
---
The example below is the first example how to connect a Patton FXO VoIP Gateway to the Gigaset T300/T500.

These instructions have been tested by the Gigaset PRO team and are approved to use together with our Gigaset T300 and T500 PRO systems. We do not provide any other support on the configuration of these FXO/FXS VoIP Gateways.

Tested with:
Gigaset T300/T500 PRO: Software version 5.2.0.10
Patton 4112
---
 1. Gigaset T300/T500 settings
In the Gigaset PBX go to "Configuration" - "Lines" - "Lines" and click on "New line".

Provider settings:
Give the Line an unique name, you do not need to insert a Username and Password because the connection is based on the IP address.

---
In the Provider pulldown list, select "new.."

Use the settings below. Only the field host should be changed.


| | |
| --- | --- |
| host:  | IP address of the Patton FXO gateway |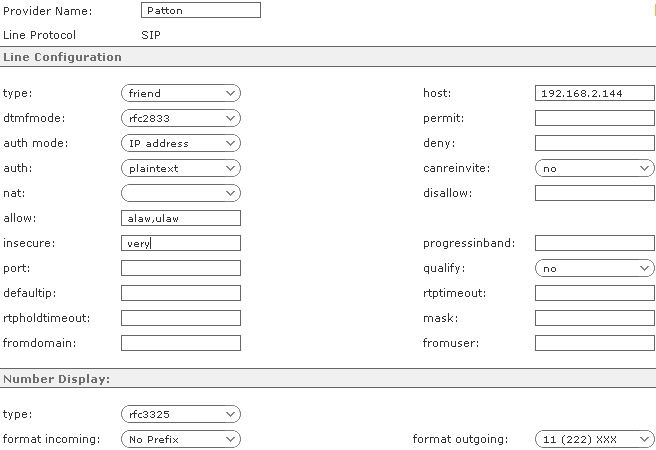 ---
Number Area settings:

Add the telephone number, this number is also configured in the Patton box.


---
2. Configuration Patton Gateway
Download here the Patton FXO configfile.
Open the configfile with a text editor and look for the settings:
   interface if_eth0
   ipaddress 192.168.2.225 255.255.255.0
Change the IP address 192.168.2.255 to the IP address you have defined for the Patton Gateway.
The following settings define the IP address of the Gigaset T300/T500, change the IP address "192.168.2.5" to the IP address of the Gigaset T300/T500
   interface sip if_sip_starface
   bind context sip-gateway gw_sip_starface
   route call dest-interface if_fxo_0
   remote 192.168.2.5
The settings below define the number the Patton is dialing when an incoming call is received on FXO port 1 or FXO port 2.
In this example an incoming call on FXO port 1 causes the Patton to dial the number 123456, this number you have defined in the Provider setting of the Gigaset T300/T500. If you change this number here, you also need to change this in the Gigaset T300/T500.
 mapping-table called-e164 to called-e164 mt_fxo_0_called_e164
   map default to 123456
 mapping-table called-e164 to called-e164 mt_fxo_1_called_e164
   map default to 654321
---