Skip to end of metadata
Go to start of metadata
This document provides a summary of how the Innovaphone IP 800 can interoperate with Gigaset pro IP DECT Cordless system N720 IP Pro.
This is a Gigaset pro "self-certification" document based on own testing with the IP800.
This guide has been tested with follwing firmware versions:
N720      Version 92

IP800     Version 11R2SR2




Step1:  Configure SIP User on the MyPBX system 
Login to the PBX by entering the IP address of the PBX into your Browser
Go to PBX –> Login Pop up appears  / Enter username and password
Default User = admin
Default Password = ip800
Add a new user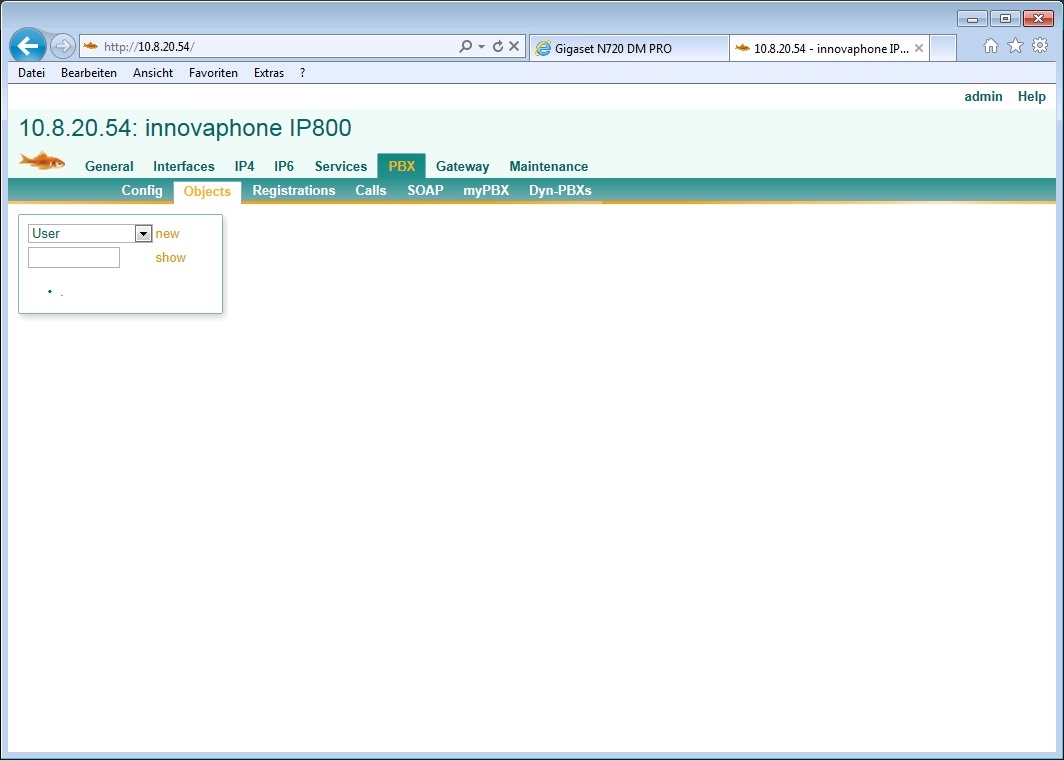 Go to PBX --> Objects / Select "User" press on the "new" button
Configure the user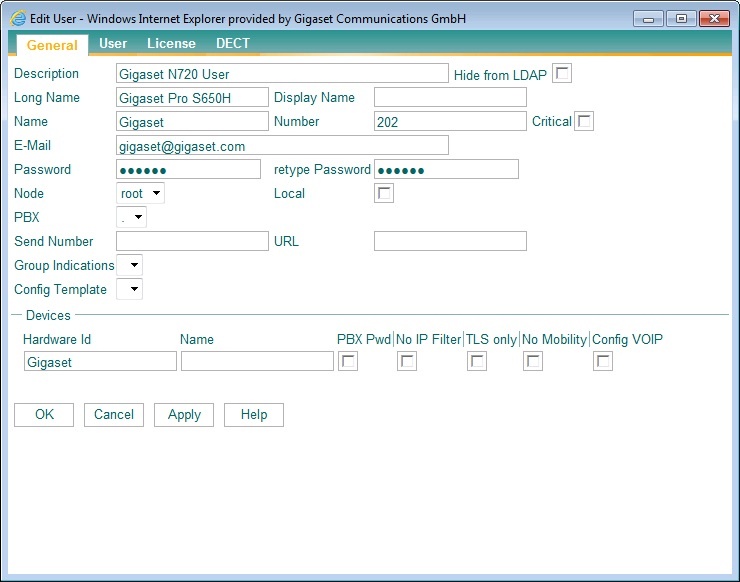 | PBX IP 800 | N720 |
| --- | --- |
| Description: Gigaset N720 User | -- |
| Longname: Gigaset Pro S650H | -- |
| Name: Gigaset | Username:Gigaset |
| Number: 202 | -- |
| Hardware ID: Gigaset | Authentication name:Gigaset |
| Password:1qay2wsx | Authentication password: 1qay2wsx |
Please make sure that Name und Hardware Id is the same
Please press "OK"
Step 2: Configure the PBX directory 
IP 800 is using a LDAP server as Database for the internal user directory.


You don´t have to change the settings for using the diretory with a Gigaset DECT system.
The IP of the LDAP server is the same as the IP of the PBX.
PBX IP 800
Gigaset

BaseDN --> Services/LDAP/Expert :

Default --> cn=PBX0

LDAP search base (BaseDN)

User Name --> Services/LDAP/Server :

Default --> ldap-guest

Common username

Password --> Services/LDAP/Server :

Default --> ip800

Common password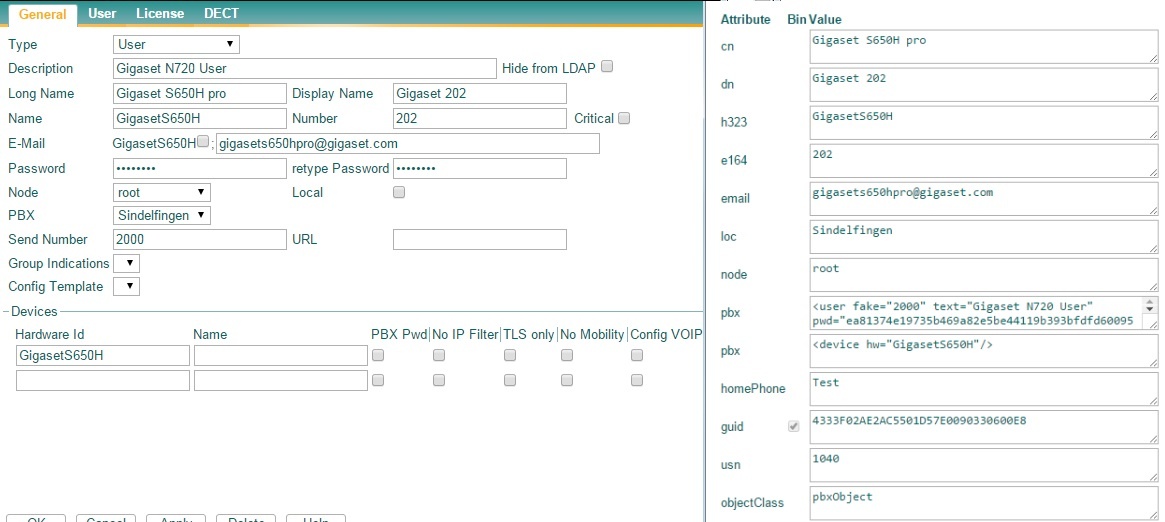 Database attributes
| PBX IP 800 | LDAP |
| --- | --- |
| Longname | cn |
| Displayname | dn |
| Name | h323 |
| Number | e164 |
| Email | email |
Step 3: Prepare the N720 to register new handsets and VoIP accounts. 
Careful planning of the DECT wireless network is the prerequisite for successful operation of the Gigaset N720 DECT IP Multicell System with good call quality and
adequate call options for all subscribers in all the buildings and areas belonging to the MyPBX. When deciding how many base stations are needed and where these
should be positioned, both the requirements for the capacity of the MyPBX and its wirelss coverage as well as many ambient conditions, must be taken into consideration.
The "Gigaset N720 DECT IP Multicell System- Site Planning and Measurement Guide"  will make it easier for you to plan your multicell DECT network.  
Login to the N720 WebUI by entering the IP of the N720 into a browser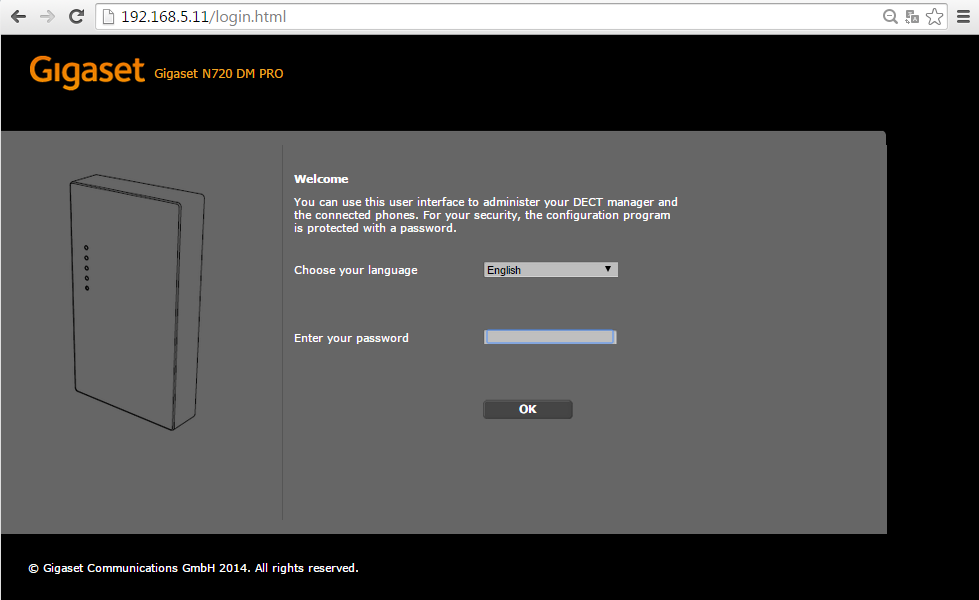 default password : admin
Hint: A internet connection is necessary to change the language
Configure the network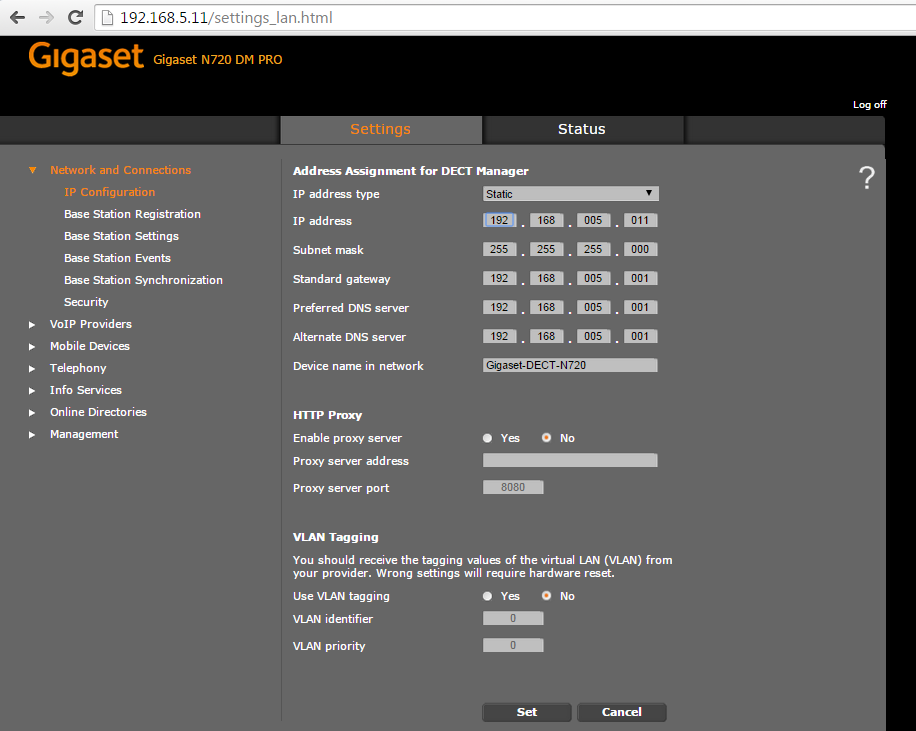 Settings/ Network Connections/ IP Configuration
Register new DECT basestation / transmitter to the system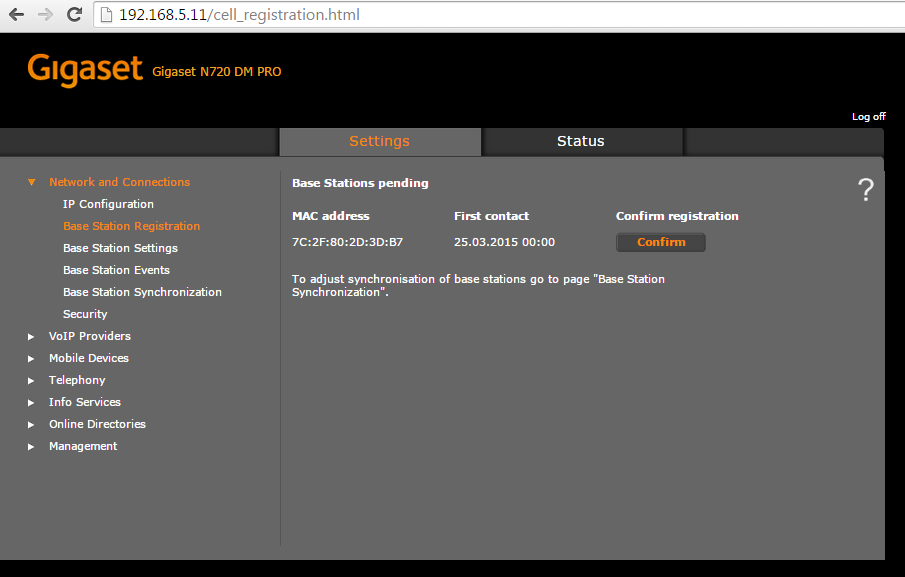 Settings/ Network and Connections / Base Station Registration
To register a new basestation press the "Confirm" button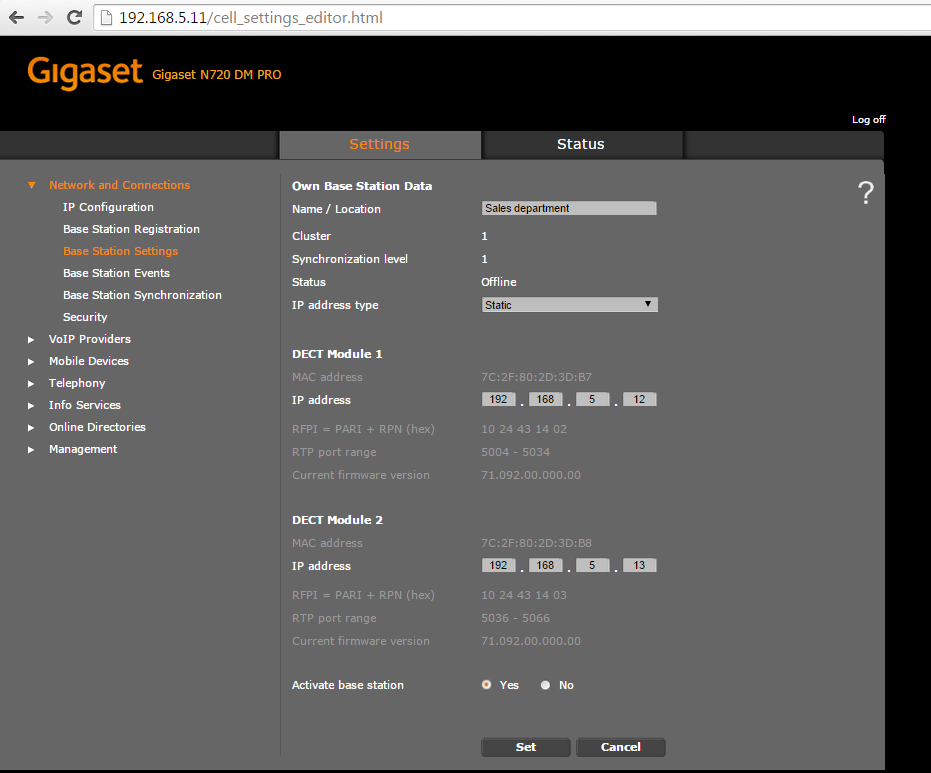 Enter a reasonable Name/ Location and set the IP settings.
Add a new VoIP Provider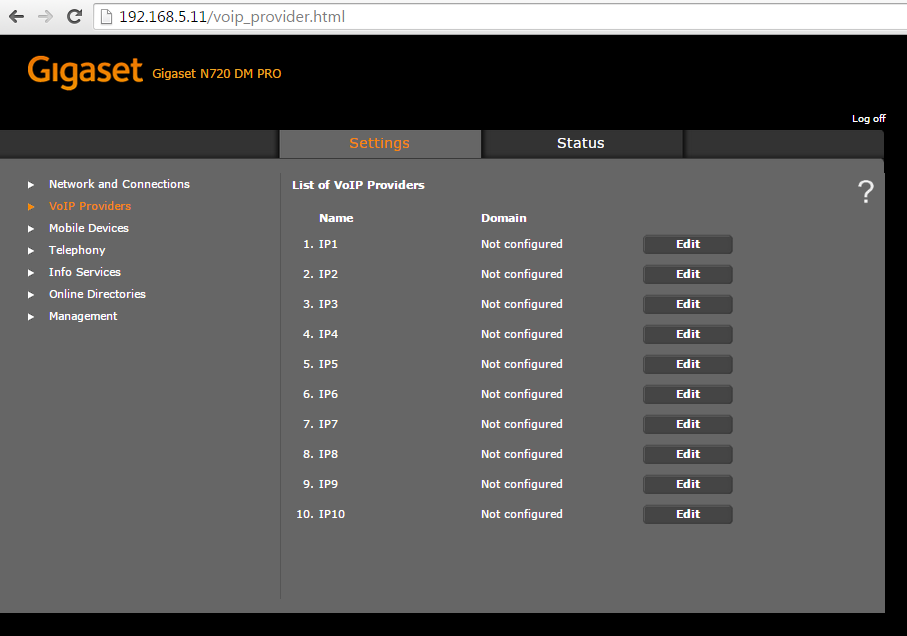 Settings / VoIP Provider
To add a new provider press the "Edit" button of the first account.
Select a new VoIP provider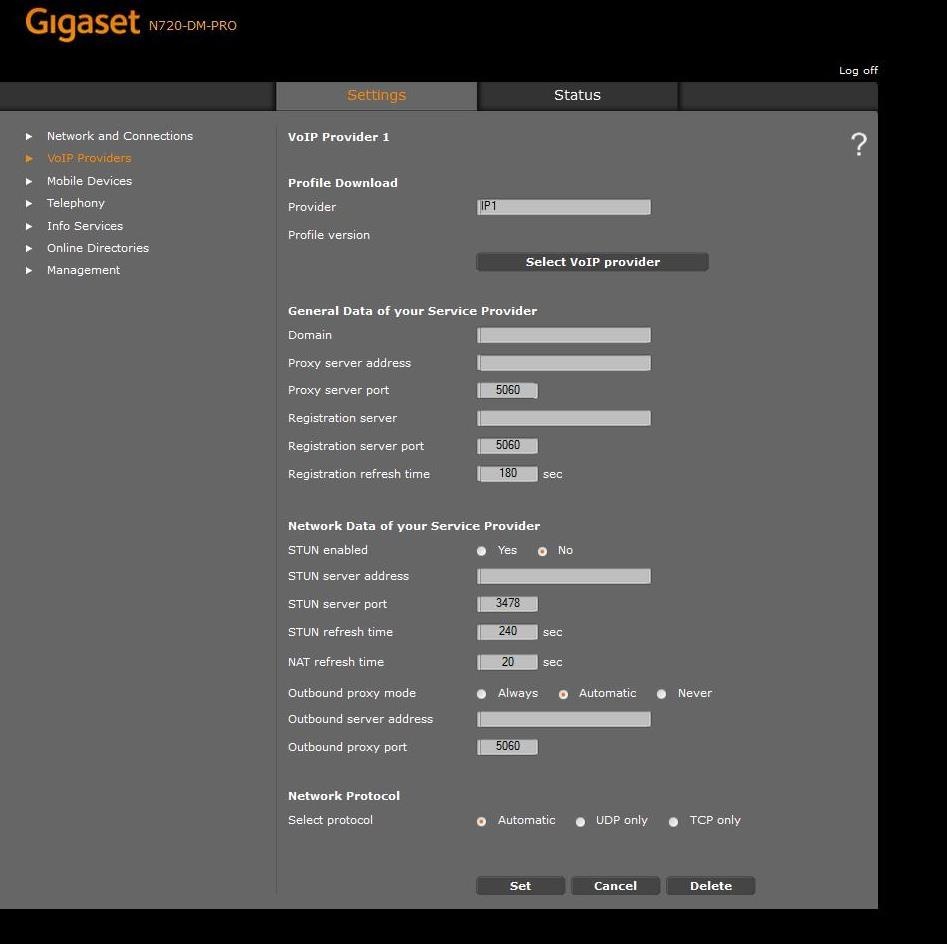 To select a new VoIP provider press the "Select VoIP provider" button
Start the wizard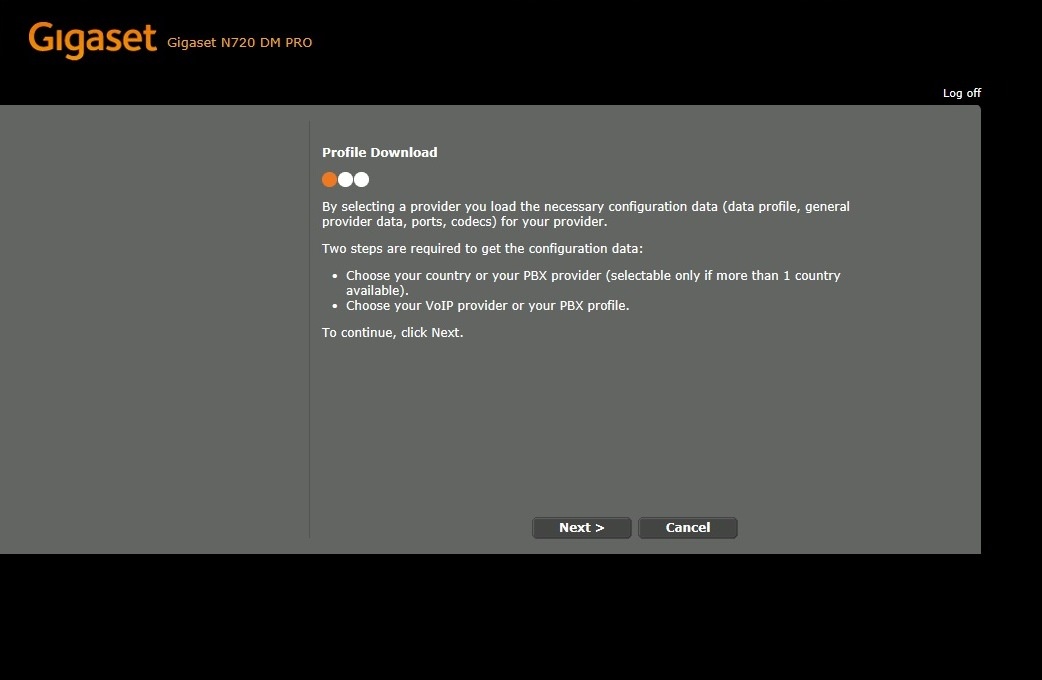 Choose the Country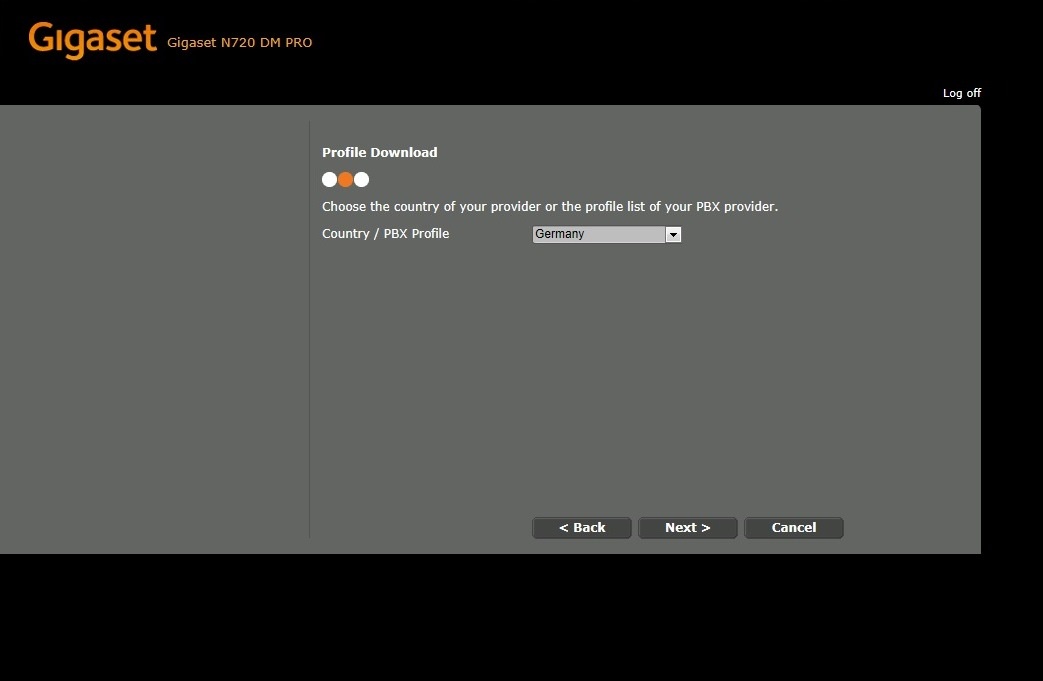 Germany is needed to get the right profile for Innovaphone.
Select the PBX Profile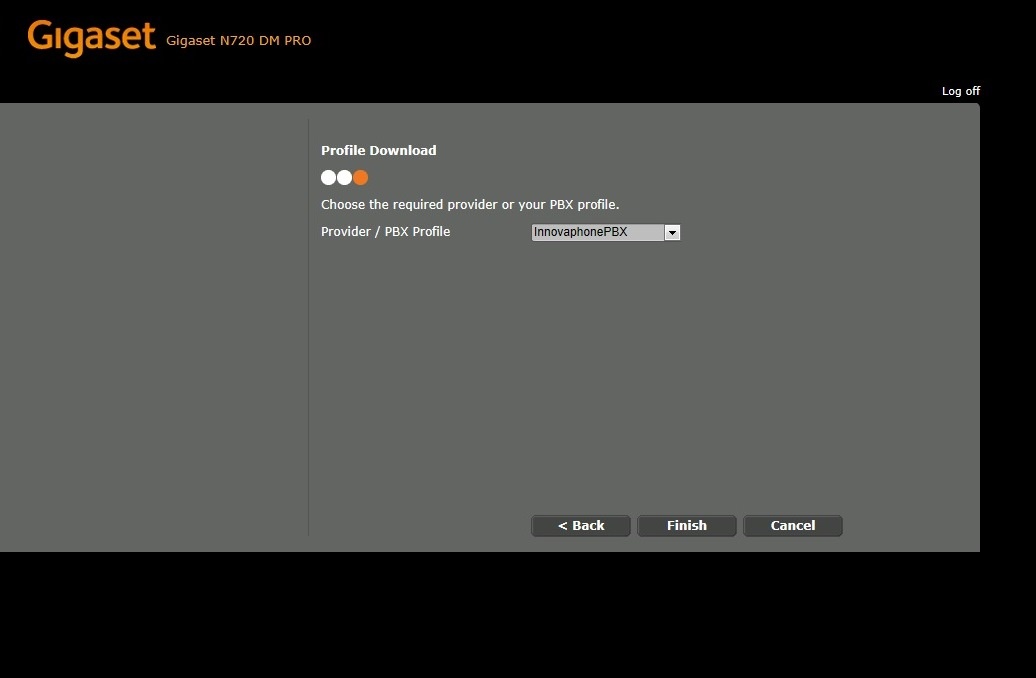 It is important to select the InnovaphonePBX profile
End the wizard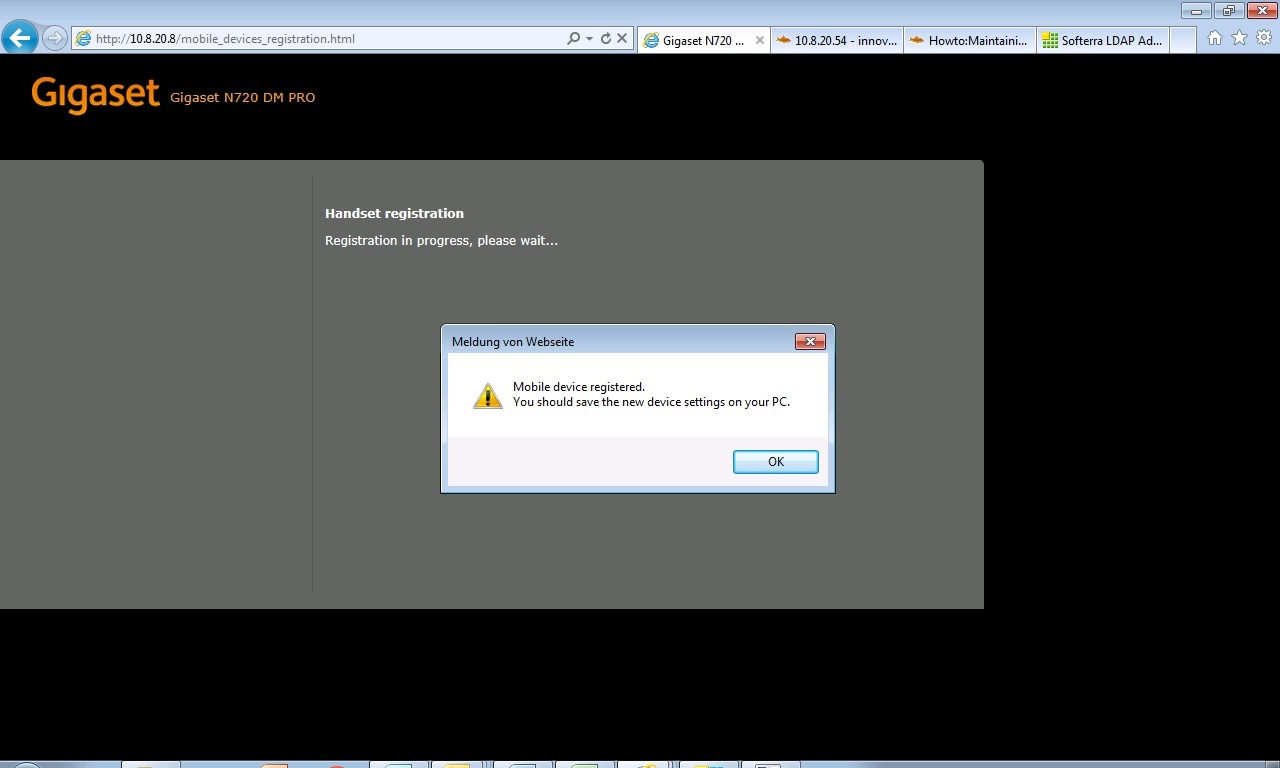 Press the "Finish" button and accept the pop up with OK
Enter the VoIP PBX settings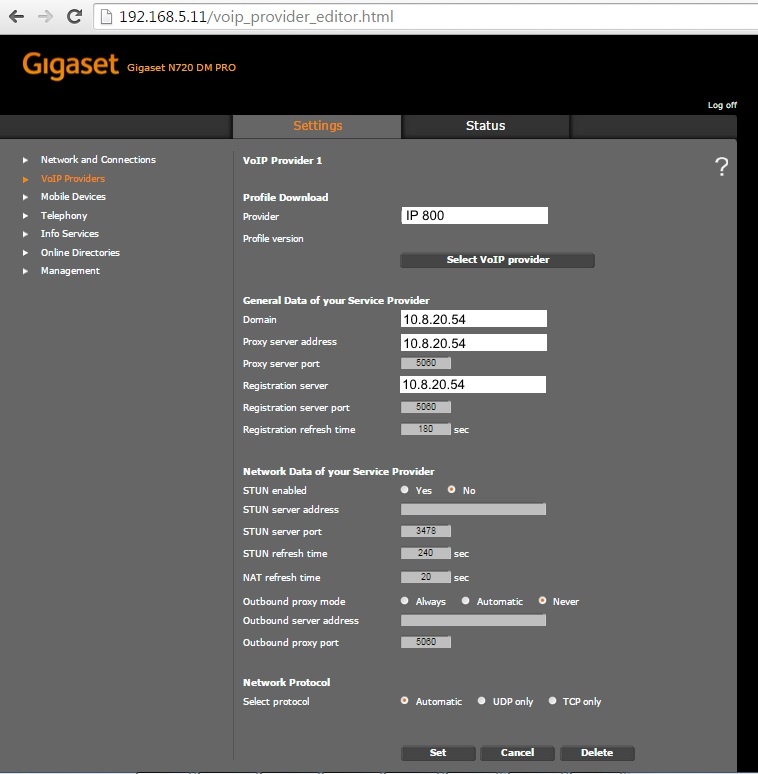 | Provider | MyPBX |
| --- | --- |
| Domain | PBX IP example: 10.8.20.54 |
| Proxy server address | PBX IP example: 10.8.20.54 |
| Proxy server port | 5060 |
| Registration server | PBX IP example: 10.8.20.54 |
| Registration server port | 5060 |
| Registration refresh time | 180 |
| all others | default |
Don´t forget to press "set" to save the settings
Change the advanced VoIP settings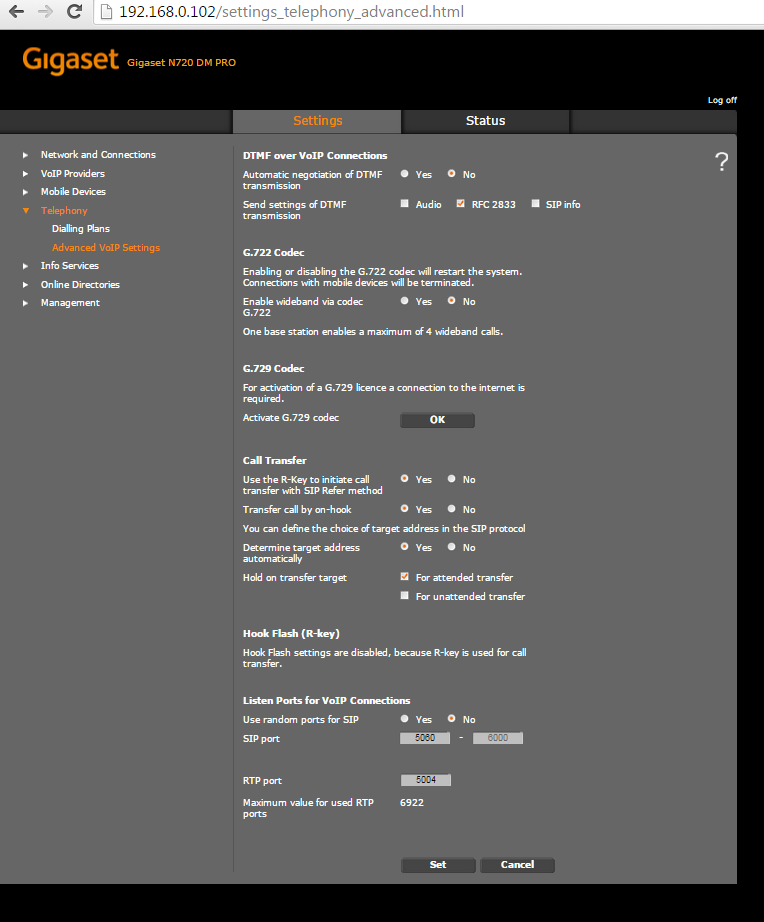 Settings/ Telephony / Advanced VoIP Settings
| | |
| --- | --- |
| Automatic negotiation of DTMF.. | No |
| Send settings of DTMF ... | RFC2833 |
| all others | default |
Change the local settings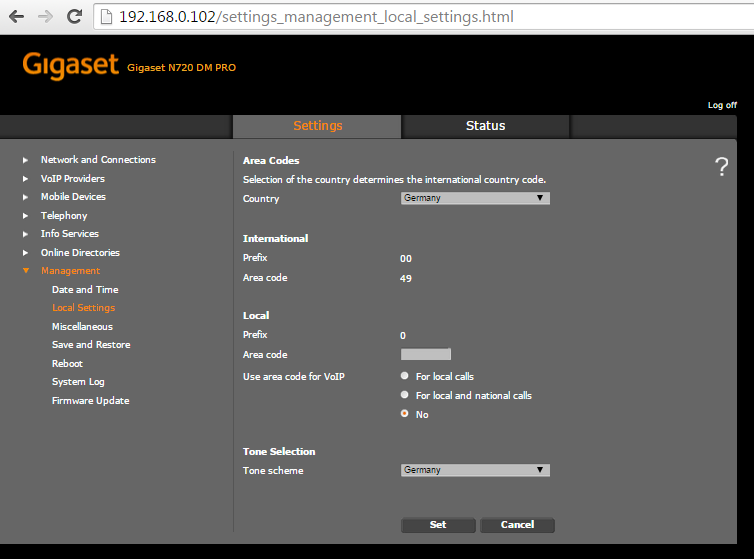 Settings/ Management / Local Settings
| | |
| --- | --- |
| Country | Germany |
| Tone schema | Germany |
| all others | default |
Step 4: Now we will add the MyPBX directory(LDAP) to our DECT System
Configure the LDAP director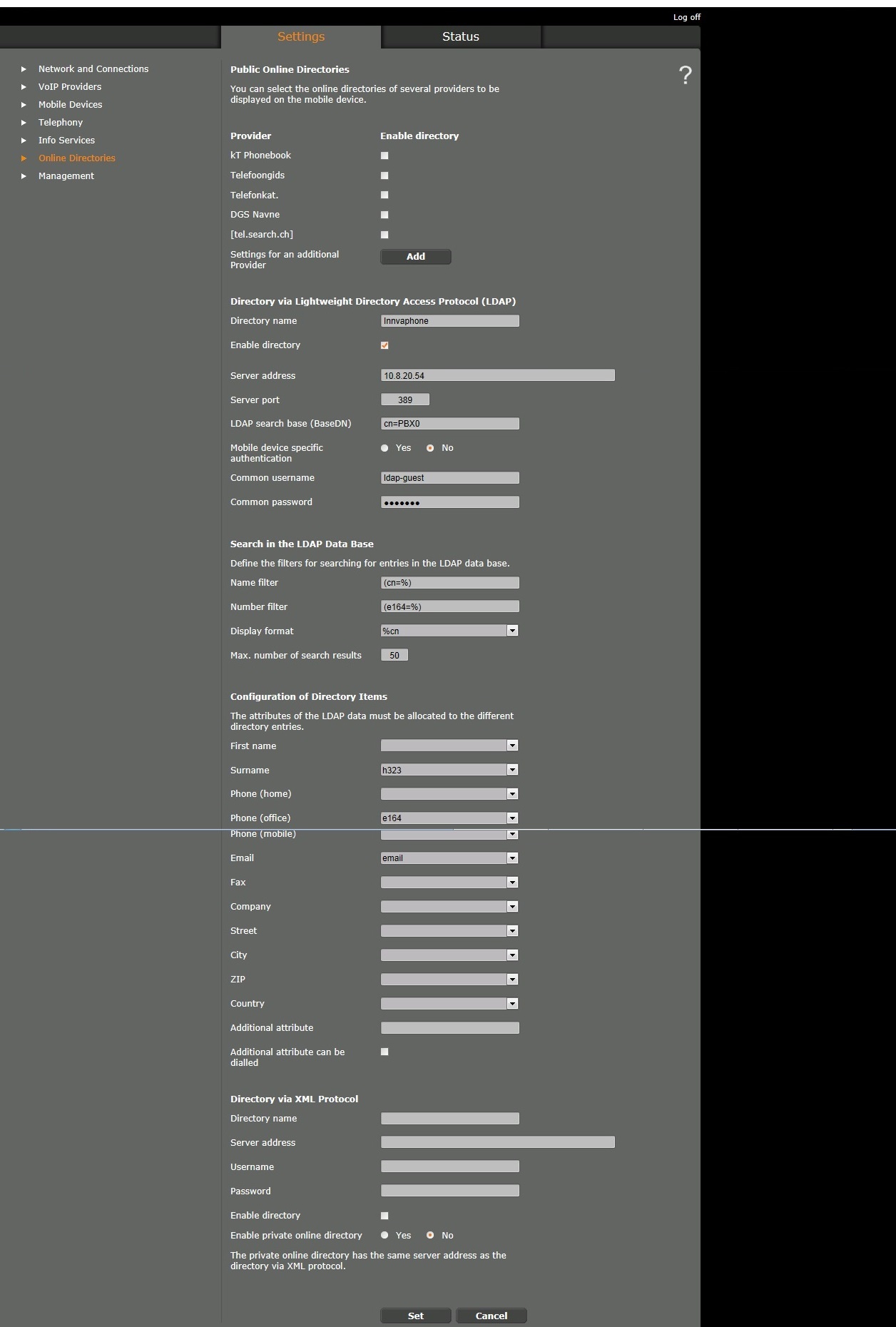 Settings/Online directories
Directory Name
MyPBX directory
Enable directory
set checkmark
Server address

Innovaphone IP800

example

10.8.20.54

LDAP searche base
cn=pbx0
Common username
ldap-guest
Common password
ip800
Name filter
(cn=%)
Number filter
(e164=%)
Display format
%cn
First name
 
Surname
h323
Phone(home)
 
Phone(office)
e164
Phone(mobile)
 
Email
email
Company
 
Street
 
Don´t forget to press the "set" button to save
Step 5: Register new handset / VoIP account
Register Hanset to DECT system
Settings / Mobilte Devices
Click on "Add"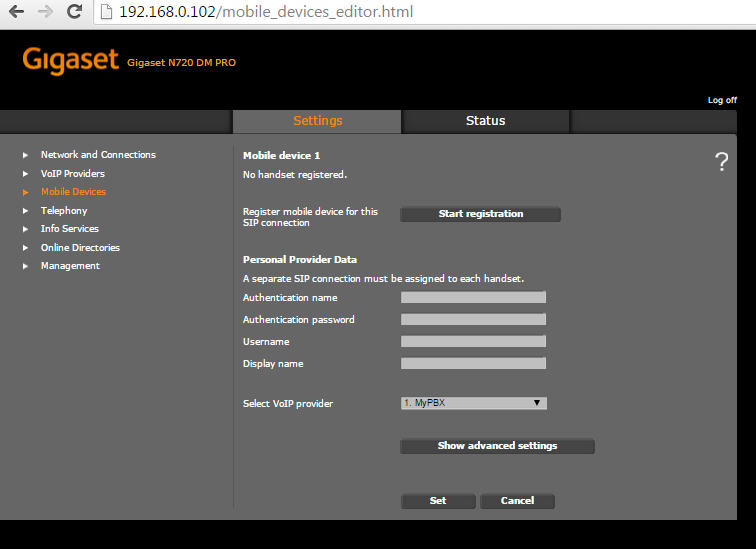 To start the registration click on "Start registration "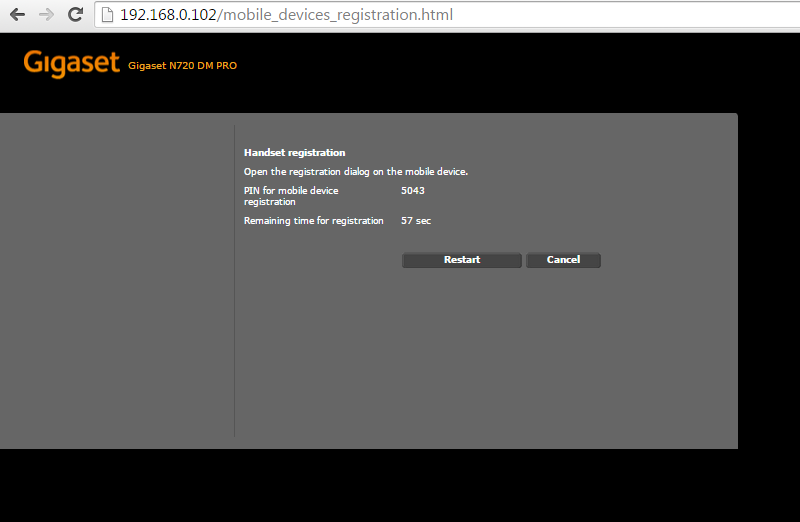 Start the registration on your handset and enter the registration pin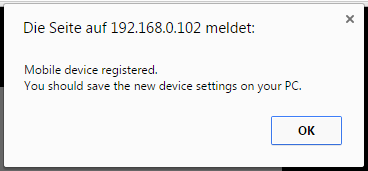 Pop up appears if registration was successfull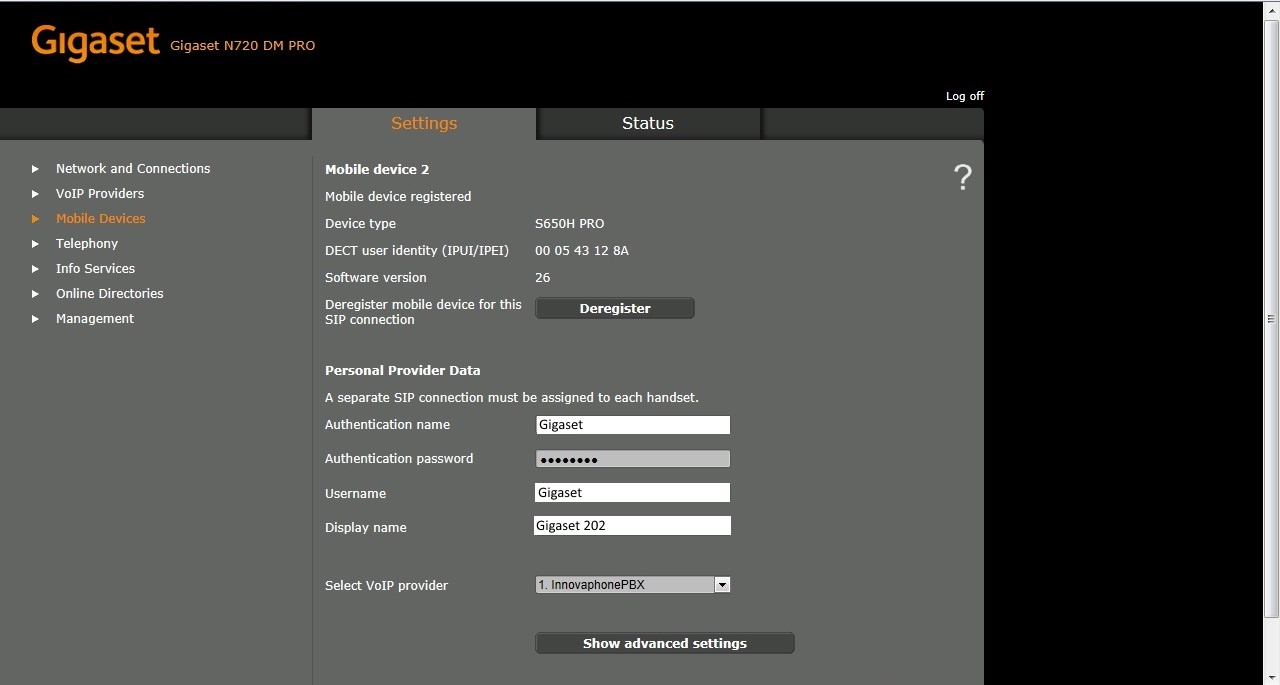 Now you have to add the MyPBX extension settings
| | |
| --- | --- |
| N720 | IP800 |
| Authentification name:Gigaset | Register Name : Gigaset |
| Authentification password: Bnnvsc517 | Password: 1qay2wsx |
| Username:Gigaset | Extension :Gigaset |
| Display Name: Up to you | --- |
Click on Show advanced settings to start the last settings
Advanced settings ( Voicemail / MWI / directory access / autolookup)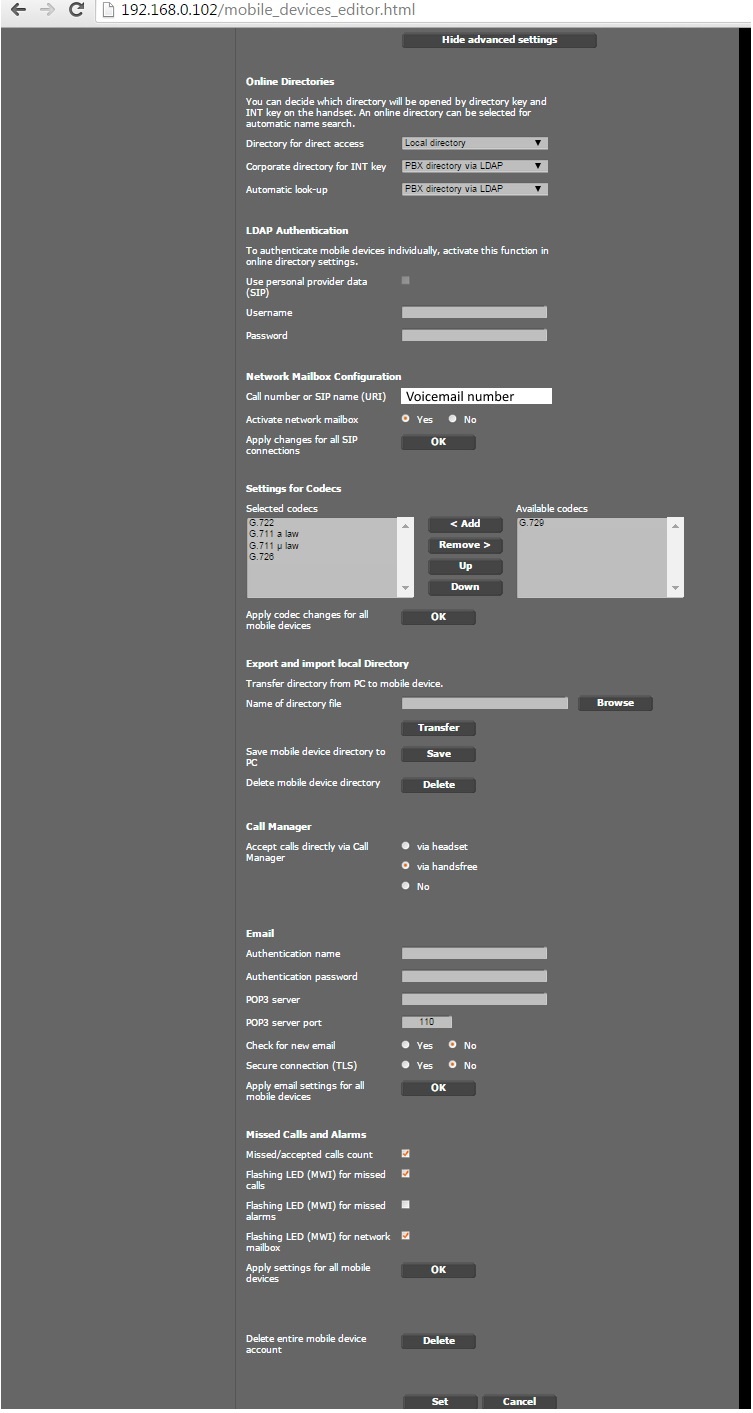 Corporate directory for INT key
PBX directory via LDAP
Automatic look-up
PBX directory via LDAP
Call number of SIP Name(URI)
Voicemail number
Acticate network mailbox
set radio button
Accept calls directly via call Manager

via headset or via handsfree

Important to use myPBX
IMPORTANT: click "set"
Step 6: Check the registration