Skip to end of metadata
Go to start of metadata
Anmeldung des DX800A am Swisscom Router

---
Anleitung DX800A Schritt für Schritt in Deutsch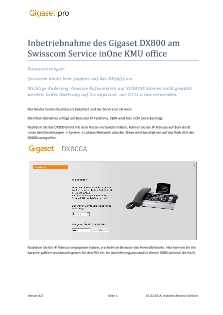 ---
NEU 27 Feb 2018! Gewisse Automatische Vermittler, "Bitte wählen Sie 1 für Deutsch, 2 für Französisch..etc. verstehen RFC2833 nicht und verstehen nur Audio Codec! In diesem Fall stellen Sie auf Codec VoIP Automatisch um!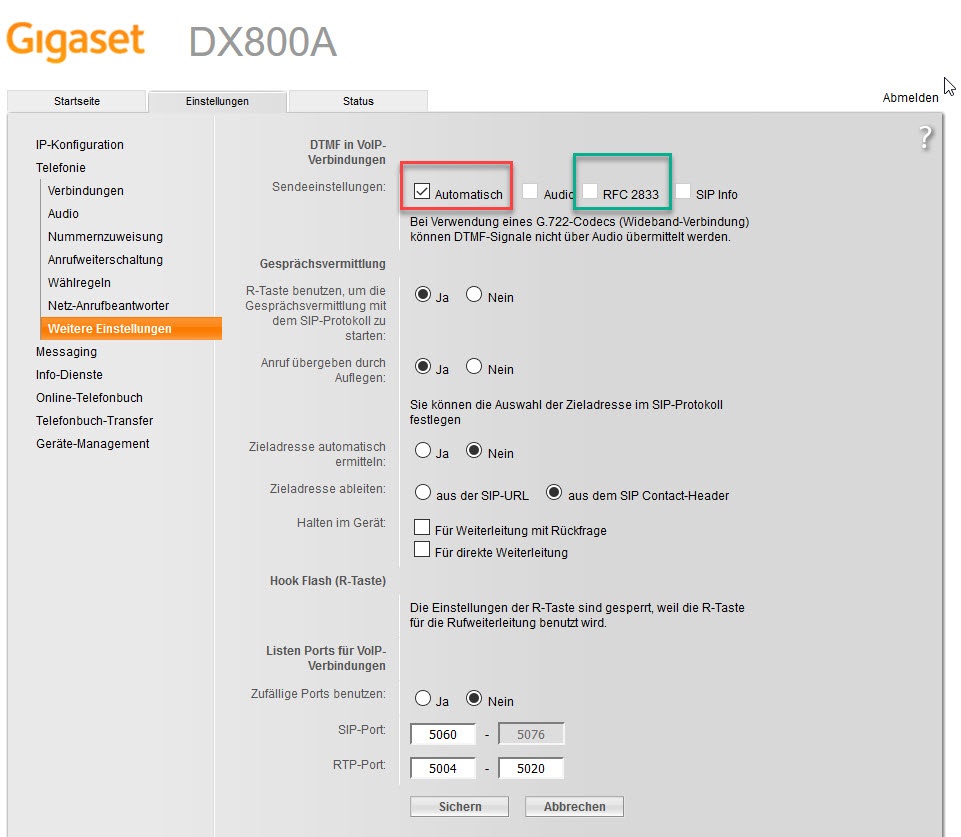 ---
RFC2833 muss als DTMF Standard definiert sein. Ausser gewisse Automatische Vermittler die Angerufen werden akteptieren keine Nachwahl - dann stellen Sie auf Automatisch um wie im oberen Beispiel.
---
Gewisse Nummern können nicht gewählt werden! Codec G711 a law darf nur verwendet werden. Meistens sind es Anrufe von Swisscom zu Sunrise Nummern die Gebietsabhängig sind.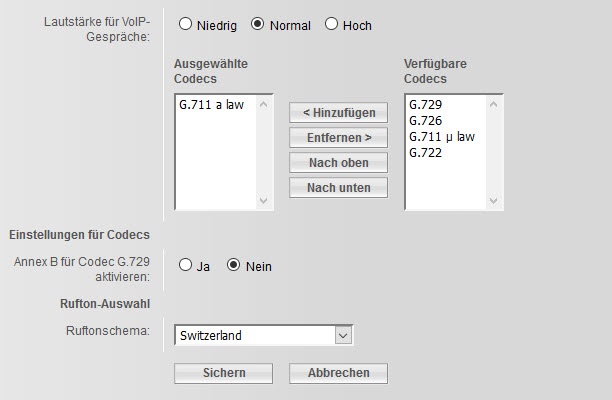 ---
Inbetriebnahme des DX800A an Swisscom Centro Business / Mise en service DX800A avec Swisscom PME Office
Settings with DX800A with Swisscom Centro Business Router!
Umleitung kann nur über den Service Code eingeschaltet/ausgeschaltet werden, und nicht über die Umleitfunktion des DX800A Menu!!
zB. *21<nummer># Umleitung aktiv
mit #21 Umleitung deaktivieren
| Feature                              |                                |
| --- | --- |
| Outgoing Calls | Yes |
| Incoming Calls | Yes |
| CLIP incoming | Yes |
| CLIP outgoing | Yes |
| Call Forwarding | Yes |
| Call Transfer | Yes *21 |
| Call Waiting | Yes |
| DTMF | Yes |
| Anonymous Call | Yes |
| A-number forwarding | Yes |
| Fax | -- |
Settings to change/modify on your Router from Swisscom / Im Centro Business unter VoIP auf die Telefonnummer gehen und ändern drücken.
SIP Credentials auslesen um in den DX800A einzugeben:
SIP Benutzername = Ihre Telefonummer zB. +41561234567
Passwort ansehen, ich empfehle gleich ein Passwort selbst zu vergeben und speichern.
Anleitung befolgen für weitere Einstellungen
NEU ab Sept.2017 – > RFC 2833 Einstellen beim DX800A änderung von Dok V3
NEU ab 1 Feb. 2018 Codec auf nur G711 a law umstellen weil gewisse Nummern nicht gewählt werden können, meistens von SUNRISE . anderung Dok V4
.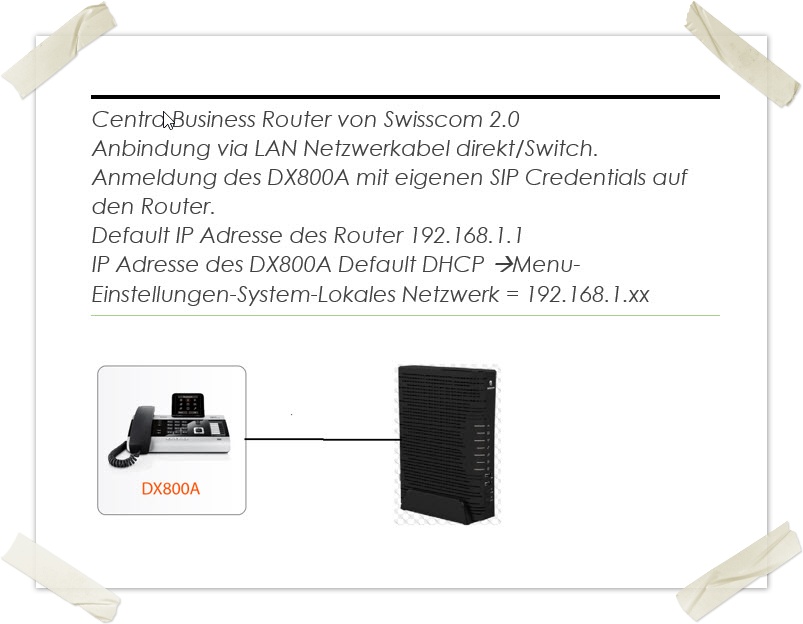 ---
Mise en Service DX800A avec le Centro Business en Francais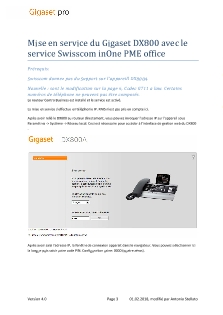 ---
Nouveau 27 Fév 2018! Certains Automatique Attendant. "S'il vous plait sélectionner 1 pour l'allemand, 2 pour le francais..etc. accepte pas le Code DTMF RFC 2833. Dans ce cas, change svp le Codec sur Automatique.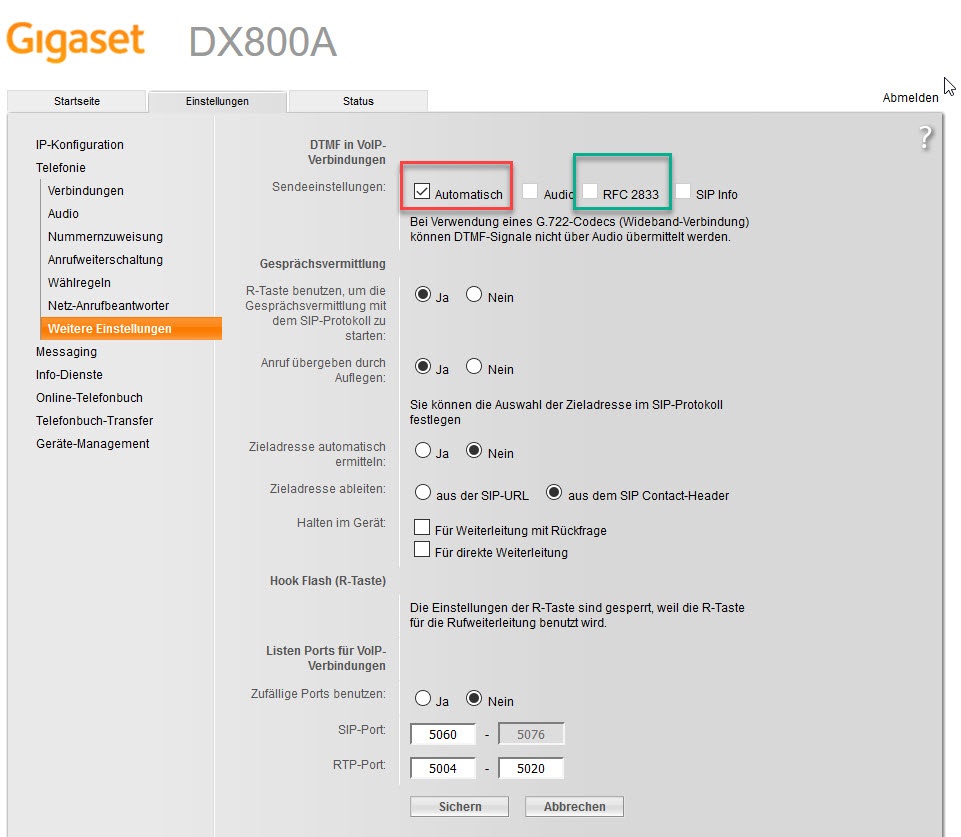 ---
RFC2833 DTMF Code dois etre choisi come le default Codec. Seulement ci vous appeler certains Automatique Repondeur qui comprendre pas "la procedure "presse 1 pour l'allemand etc. Dois etre changer ver le valeur automatique du codec VoIP.
---
Certains numéro en peux le pas appeler! Changez le Codec uniquement sur G711 a law. Dans ce cas s'agire des appeler de Swisscom vers Sunrise.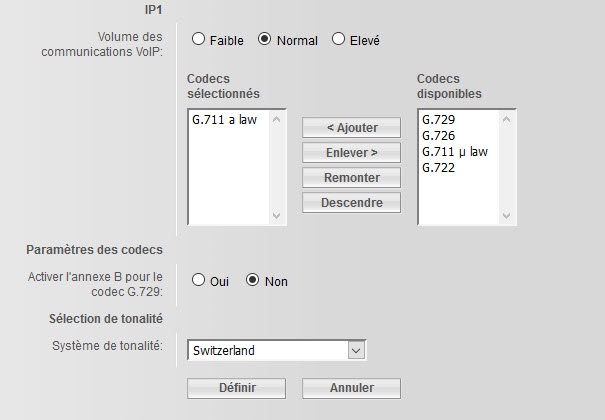 ---