Skip to end of metadata
Go to start of metadata
Gigaset PRO Interop program Switzerland

The Gigaset PRO Interop program is created to test the Gigaset PRO devices behind existing PBX systems and connected to Providers. Our Goal is to create a wide Interop behind the existing solutions. If you are missing local providers or PBX systems, you can contact the local technical sales in your country.
When connecting the Hybird 120 Gigaset Edition to the providers listed here, will offer you the Call features like:
Incoming Calls
Outgoing Calls
Call Transfer
CLIP / COLP
Call Waiting
Call Forwarding
Anonymous Call
DTMF
A-Number forwarding (Optional)
Gigaset Pro DX800 an den Swisscom Routern Centro Business & Internet Box

Partner welche ein Gigaset DX800 hinter den Routern Centro Business oder Internet Box installieren finden hier eine Schritt für Schritt Anleitung.
Wichtige Hinweise zur Installation

Die Router sind keine PBX Systeme. PBX Funktionalitäten bei Mehrgeräte Installationen sind nicht möglich.
Ein Know How bezüglich TCP/IP ist Voraussetzung um die Telefone über IP beim Kunden einzurichten.

Insbesondere müssen Partner in der Lage sein auch einen Wireshark Trace aufzuzeichnen im Falle einer Support Anfrage!

Die Geräte wurden ausschliesslich direkt am Router getestet! Installationen hinter Switches, Firewalls etc. werden nicht empfohlen.
Da Kunden-Netzinstallationen unterschiedlich sind, kann hier von Seite Gigaset nicht Rücksicht darauf genommen werden und Gigaset kann keinen Support darauf erbringen.
Die Anleitungen sind eine Momentaufnahme und werden entsprechend bei neuen Erkenntnissen aktualisiert.
Router Centro Business FW Version muss mindestens 7.10.10 sein!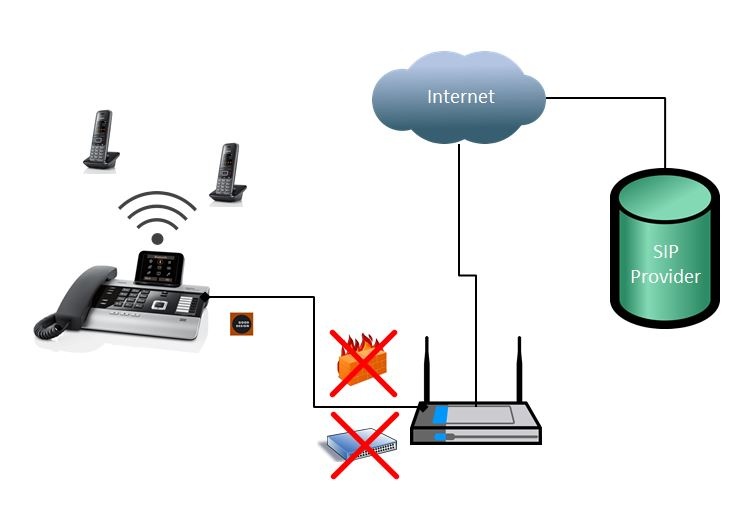 Anleitung in Deutsch

in ONE KMU Office DX800A Centro Business

Instruction en français

in ONE PME Office DX800A Centro Business
Letzte Änderung / Dernière modification: 18.09.17
Gigaset Pro DX800 sur les routeurs Swisscom Centro Business & Internet Box
Les partenaires qui installent un Gigaset DX800 derrière un routeur Centro Business ou une Internet Box trouveront ici un mode d'emploi pas à pas.
 Importants conseils concernant l'installation
Les routeurs ne sont pas des systèmes PBX. Les fonctionnalités PBX en présence d'installations à appareils multiples ne sont pas possibles.
Un savoir-faire en matière de TCP/IP est un prérequis pour l'installation des téléphones sur IP chez le client.


Les partenaires doivent notamment également être en mesure de lancer un traçage Wireshark dans le cas d'une demande de support technique!

Les appareils sont directement testés sur le routeur à l'exclusion de toute autre méthode! Les installations derrière des commutateurs, des pare-feux, etc… ne sont pas conseillées. Comme les installations réseaux des clients sont différentes, Gigaset ne peut pas les prendre en considération et Gigaset ne peut fournir aucun support technique les concernant.
Le mode d'emploi représente une photographie instantanée. Il sera mis à jour en conséquence pour s'adapter aux dernières connaissances.
Version logiciel de routeur Centro Business min. 7.10.10!